The World Partners in Asset Management (WPiAM) does not require candidates to undertake any training prior to sitting the CAMA Exam, however candidates who feel they would benefit from preparatory training may choose to do so.  WPiAM has reviewed, assessed and endorsed the following recognised training programs as being suitable preparation for the CAMA Exam.   Candidates for the CAMA Exam should choose a Recognised Training Program that supports and enhance their current knowledge and skill levels.
Requirements for a Recognised Training Provider
To receive recognition, the competencies for Training Program must cover the competencies specified in ISBN978 0 9871799 5 1 GFMAM ISO55001 Auditor Assessor Specification.

In carrying out its business, the Training Provider shall ensure that its Staff and Instructors or Presenters maintain a high level of professional conduct at all times. The Training Provider and their Staff and Instructors or Presenters must:

comply with any applicable legislation;

maintain high standards of honesty, integrity, and trust;

ensure that information is accurately interpreted and communicated, without bias;

maintain confidentiality of personal information;

ensure learners and instructors are treated fairly;

avoid any conflict of interest; and

adhere to health and safety principles and contribute to a positive health and safety culture.
Should you need any assistance or have any questions, please feel free to contact us.
CURRENTLY RECOGNISED PROGRAMS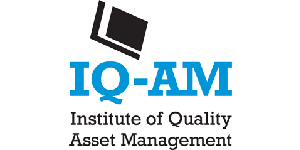 Assess Others in an Asset Managed Environment
Institute of Quality Asset Management
Course Length : 3 Days
Languages Offered : English
Visit Website